Helmet size meusuring
Found a nice vintage half helmet or retro helmet, but no idea which size of the helmet you need?
No problem! Some of our helmets have universal size, which means it has 1 size. These helmets can be made larger for your head by us or yourself. So our helmets are suitable for almost everybody. 

The rest of our helmets come in different sizes. Determining the right size of your helmet seems difficult thrue the internet, but it isn't! 
By measuring your head at the widest place can you determine your size. Beneath you will find all sizes in which you can determine your helmet size. The number centimeters are matching with the inside of the helmet. So our helmets will fit perfectly.
53 – 54 cm = XS
55 – 56 cm = S
57 – 58 cm = M
59 – 60 cm = L
61 – 62 cm = XL
63 – 64 cm = XXL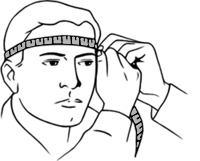 We also have a number of models that can run smaller or larger, but this will always be indicated in the description of the helmet.

If you have any doubts or questions concerning your size, please contact us. 
Measuring children's helmet
Measuring works the same with children's helmets. Measure the widest point of the head to determine the size. For each size is indicated what the number of centimeters is. The number of centimeters that has been measured can therefore simply be translated into the size. Our models can differ in size and the corresponding measurements, so we recommend that you look carefully at the number of centimeters that is described with the model.