Motor gloves
Motorcycle gloves for men and women
In addition to a good helmet, good gloves are also of great importance. Motorcycle gloves not only offer safety, but also comfort. In addition to good protection, motorcycle gloves provide good grip and warm hands. We have a wide range of gloves in all kinds and styles. On our website you will find different brands of motorcycle gloves, such as Grand Canyon, IXS, Germas, Davida, Seca and Swift. Our motorcycle gloves are also ideal for the scooter, moped or just as a leisure glove. But what should you pay attention to when you buy motorcycle gloves? That question depends on a number of factors. For example, material is important, but also the type of season in which you will use the gloves.
Leather motorcycle gloves
We have gloves in different materials in our range. We have cow leather gloves, this leather is a bit thicker and therefore stronger and lasts longer. Even with intensive use. However, it is stiffer than goat leather and will tear faster than PU leather. Goat leather gloves are characterized by a smooth fit, which means that hands can be moved more than average. The leather is also softer than other types and therefore feels a lot nicer. The only drawback is that it is thinner and therefore more fragile. This makes it less suitable for intensive use. Lamb leather feels very soft and the quality feels very high. It is widely used for luxury products. The disadvantage is that it is fragile and most suitable for show and not very suitable for intensive use. PU leather motorcycle gloves are made of synthetic, which is also called fake leather and this falls under the split leather category. The difference with real leather is almost invisible. It is a lot cheaper and they are water resistant. PU leather is also easy to clean. It is just a little less comfortable and will lose its beauty a little faster. They can become dull in color.
Motor gloves for the summer
Motorcycle gloves are of course mainly worn in the summer, which is why there are so many different types available. In the summer it is desirable to keep the hands somewhat cool and not to get clammy hands. For this reason, a summer motorcycle glove is made of thin material with ventilation details or, for example, mesh panels, making the glove breathable. Due to the thin material, you retain your grip and good freedom of movement for the brakes. A disadvantage of summer motorcycle gloves is that they are not waterproof due to these breathable components. As soon as the temperature drops below 20 degrees, it is wise to opt for a waterproof glove, which provides more warmth and keeps your hands dry.
Size chart
You use your hands a lot while riding a motorcycle. So it is important that you choose the right size motorcycle glove. Determining the right size sounds difficult, but with this explanation it doesn't have to be! Which hand should I measure? It is best to use the hand with which you write. Lay the hand flat and wrap the tape measure at the widest point of your hand (palm). See also the image below. Then you can translate the number into the correct size that you see below. Leather gloves can certainly be tight at the beginning, because they can stretch over time, but you must be able to move well in them. Please note that every hand is different and sizes may vary slightly. We also have gloves that run smaller or larger, for which we recommend taking a different size. This is always stated with the product. If in doubt, feel free to contact  us.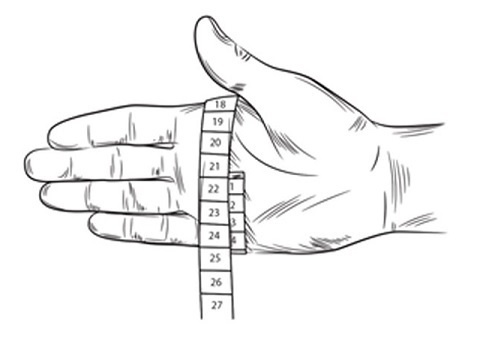 XS = 16.5 - 18.5 cm
S = 18.5 - 20.5 cm
M = 20.5 - 23.5 cm
L = 23.5 - 26.5 cm
XL = 26.5 - 29 cm
XXL = 29 - 30 cm
XXXL = 31 cm
XXXXL = 32 cm
Brands motorcycle gloves
Frequently asked questions
Determining the right glove size is not difficult at all, but it is important. A glove should not be too tight, but certainly not too loose. You determine the perfect size by means of our table. Above it is stated how you can determine your size and on this page it is also clearly described.
Are the gloves waterproof?
Summer motorcycle gloves will generally not be waterproof, because they are characterized by thin material, perforation details and, for example, mesh panels so that your hands do not sweat, but stay nice and cool. Winter gloves and most mid-season gloves, on the other hand, are almost always waterproof to keep out the cold and rain. These are often equipped with a Hipora membrane, which ensures that the glove is waterproof, but retains its breathable function. Be sure to check the product description, there it is also described if the glove is waterproof.
For what season is the glove suitable?
Most leather motorcycle gloves are best suited for the summer, but there are also many motorcycle gloves that are perfect for spring or autumn. These are called 3-season or mid-season gloves. In winter, most motorcyclists wear textile gloves that are lined and resistant to rain and wind.
Complete the look