Fingerless gloves
Fingerless gloves
The name says it all. Gloves without fingertips that are suitable for both men and women. Tipless gloves are increasingly spotted in the fashion world as accessories, are often seen as an accessory for cycling, but are especially popular and ideal for use as driving gloves. They offer protection against any splinters from a wooden steering wheel, provide comfort and a good grip and in winter they keep your cold hands warm. Gloves without tips come in all kinds of different colours and models and are very useful. Your fingertips are free to move, so you can still operate the touchscreen of your phone and grasp objects better. Leather fingerless gloves are commonly worn by chopper drivers. It gives a very cool look and vintage feel, but also provides grip and warmth through the leather on the palm.
Leather gloves without tips
Our topless gloves come in different types of leather. For example, we have lamb leather that feels very soft on the hands and has a high quality. However, it is very fragile, which makes it less suitable for intensive use and is mainly suitable for show and is therefore often used for luxury products. Goat leather gloves without tops are mainly characterized by the smooth fit. This allows you to move your hands more than average. Goat leather is softer than other types of leather and therefore feels very nice. The leather is thinner and therefore more vulnerable and less ideal for intensive use. There are also gloves without tops made of cowhide leather. This leather is somewhat thicker and therefore sturdier. This makes it last longer and is therefore suitable for intensive use. Cow leather products can tear faster, because it is slightly stiffer.
Sizes fingerless driving gloves
Determining the right size sounds difficult, but with this explanation you doesn't have to be! Which hand or fingers should I measure? It is best to use the hand with which you write. Lay the hand flat with the palm up and wrap the tape measure around the widest point of your hand. See the image below. Then you can translate the number into the correct size that you see below. Fingerless leather gloves can certainly be tight around the hands at the beginning, because they can still stretch. Please note that every hand is different and sizes may vary slightly. We also have gloves that run smaller or larger, for which we recommend taking a different size. This is always stated with the product. If in doubt, feel free to contact us.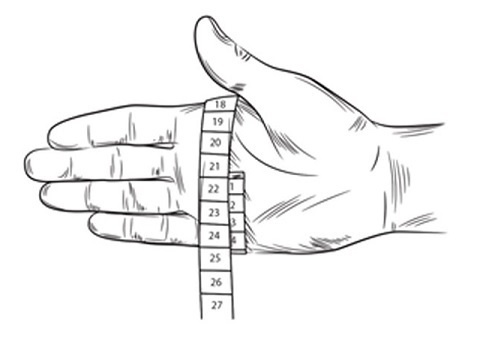 XS = 16.5 - 18.5 cm
S = 18.5 - 20.5 cm
M = 20.5 - 23.5 cm
L = 23.5 - 26.5 cm
XL = 26.5 - 29 cm
XXL = 29 - 30 cm
XXXL = 31 cm
XXXXL = 32 cm
Brands tipless gloves
Frequently Asked Questions
Determining the right size is quite easy. A glove should not be too tight, but certainly not too loose. The glove should feel comfortable. You determine the perfect glove by means of our table. Above it is stated how you can determine your size and on this page it is also clearly described.
For which season is the glove suitable?
The tipless gloves are the most comfortable for the summer, because they are open gloves and therefore the glove is not water or windproof. The gloves are also worn in the car in the cold season for extra warmth and can of course be worn all year round as a fashion item.
Complete the look