Which helmet for blue license plate
Since January 1, 2023, you are obliged to wear an approved helmet if you ride a moped with a blue license plate. The permitted helmet is also mandatory for passengers. With this helmet requirement, the government wants to reduce the number of deaths and injuries among moped drivers. The fine for violating this national helmet obligation is € 100. So make sure you purchase and wear the right helmet.
What rules must a helmet meet?
The helmet for drivers of mopeds and scooters must have a specific quality mark:
- ECE-22.05 or ECE-22.06 quality mark for a moped/scooter/motorcycle helmet
- NTA-8776 quality mark for an approved speed pedelec helmet (for the electric bicycle)
You will find these quality marks on the label in your helmet. If you wear a helmet that does not comply with these guidelines, you can receive a fine of € 100 for violation of the helmet obligation.
You can wear the helmets with a quality mark on mopeds with a blue license plate as well as on mopeds with a yellow license plate.
Where should the helmet be worn?
On the road, the helmet was of course already mandatory for motorcycles, scooters and mopeds with a yellow license plate. And since January 1, 2023, moped riders must also wear a helmet on the bicycle lane. This helmet requirement for moped riders applies throughout the Netherlands.
In our country you can still use the bicycle lane with your moped almost everywhere, because these types of vehicles are only allowed 25 kilometers per hour. Sometimes mopeds or scooters have to use the roadway, for example when it is very busy on the bicycle lanes. Also, a light moped with a blue license plate is not allowed on the bicycle lane in certain parts of Utrecht and in Amsterdam within the A10 ring road.
Helmets allowed for a blue license plate
If you wear a permitted helmet with the mandatory quality mark on your moped, you reduce the risk of (serious) head injury in the event of an accident. You also avoid a ticket for violation of the helmet obligation.
Here you see a few helmets that comply with the new rule that applies to moped riders since January 2023. With these helmets you are well protected when you go out with your scooter or moped. Take a quick look at our jet helmets and Vespa helmets.
Examples of helmet that are NOT allowed
A real half helmet never has an ECE quality mark and you therefore do not comply with the helmet requirement. Half helmets do not provide enough safety for vehicles on public roads. These helmets have a shell that is too thin.
As you can see, the shell of a jet helmet falls over the ears, but this is not the case with a half helmet. Many half helmets do have leather ear protection, but this does not provide enough safety. We also have a number of jet helmets that are not approved due to their thin shell. This will always be clearly described in the product description.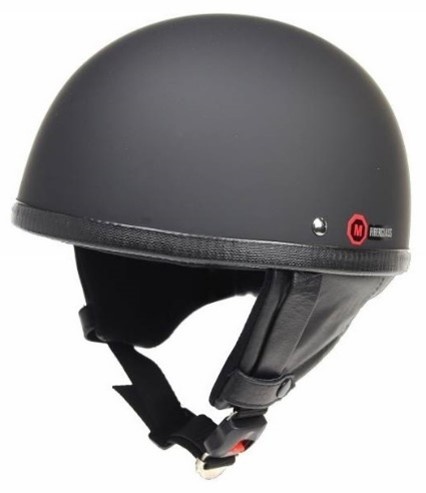 Frequently Asked Questions
Can I also wear a helf helmet on a moped?
No, because half helmets do not offer enough protection, you are not allowed to wear them on a moped or scooter. The half helmet does not fall under the helmets that are permitted according to the helmet requirement for moped riders.
The shell of a half helmet is too thin and offers no protection for your ears. Of course you are also not allowed to wear this half helmet if you are riding a moped with a yellow license plate.
On our site, each product is clearly described whether or not it has an ECE quality mark.
How do I know if a helmet is approved?
You can recognize an approved moped helmet by the label on the chin strap. This label shows the Letter E in a circle with a number behind it. This number indicates in which country the helmet was approved. All helmets approved in the EU are suitable for mopeds.
How do I know what size helmet I need?
Measure your head at the widest point as shown. This is often just above your ears. Below is a size chart in which you can read your size. This number of centimeters corresponds to the inside of a helmet.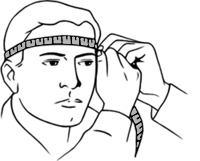 53 – 54 cm = XS
55 – 56 cm = S
57 – 58 cm = M
59 – 60 cm = L
61 – 62 cm = XL
63 – 64 cm = XXL
What rules must a children's helmet meet?
The children's helmet must have the same ECE mark as the adult helmets: ECE-22.05 or ECE-22.06. Since the beginning of 2023, wearing an ECE-approved helmet has been mandatory for children who ride as passengers on a moped or scooter.